Page 2 of 2 •
1, 2
MS-09R-2 Rick Dom II (Mass Production)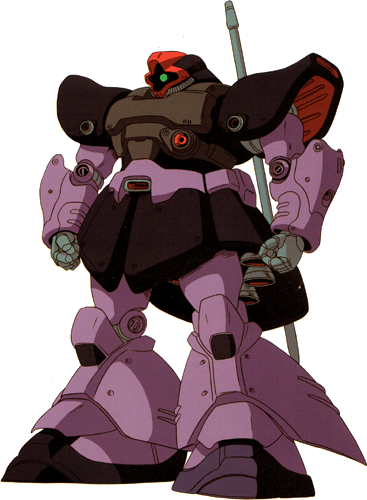 Power-plant: Minovsky Ultracompact Fusion Reactor
Power Output: 1219 kW
Sensor Range: 5400 meters
Pilot Accommodations: Pilot only (in standard cockpit in torso)
Armor: Titanium Alloy/Ceramic Composite
Information:
The MS-09R-2 Rick Dom II is a product of the United Maintenance Plan and an upgraded version of the already exceptional MS-09R Rick Dom. Because it was originally developed for space combat, its armor and overall form are shaped into flat surfaces as air resistance is nonexistent in space. Its main improvements were overall increased thruster acceleration, along with the addition of more attitude control verniers for improved maneuverability. Because of the increased fuel consumption, the Rick Dom II's producer, Zimmad, added a pair of external propellant tanks to allow the Rick Dom II to operate in the field longer.
Weapons:
Scattering Beam Gun
Heat Saber Type7
Special Features:
2 x External Ejectable Propellant Tank
Optional Weapons: (Will cost Zeni)
360mm Giant Bazooka II
H&L-GB05R/360mm Giant Bazooka
MMP-80/90mm Ver.8 Machine Gun
880mmRB-T27 Raketen Bazooka
Sturm Faust
Giant Heat Sword
MS-18E Kämpfer (Limited Production *10 Models Available*)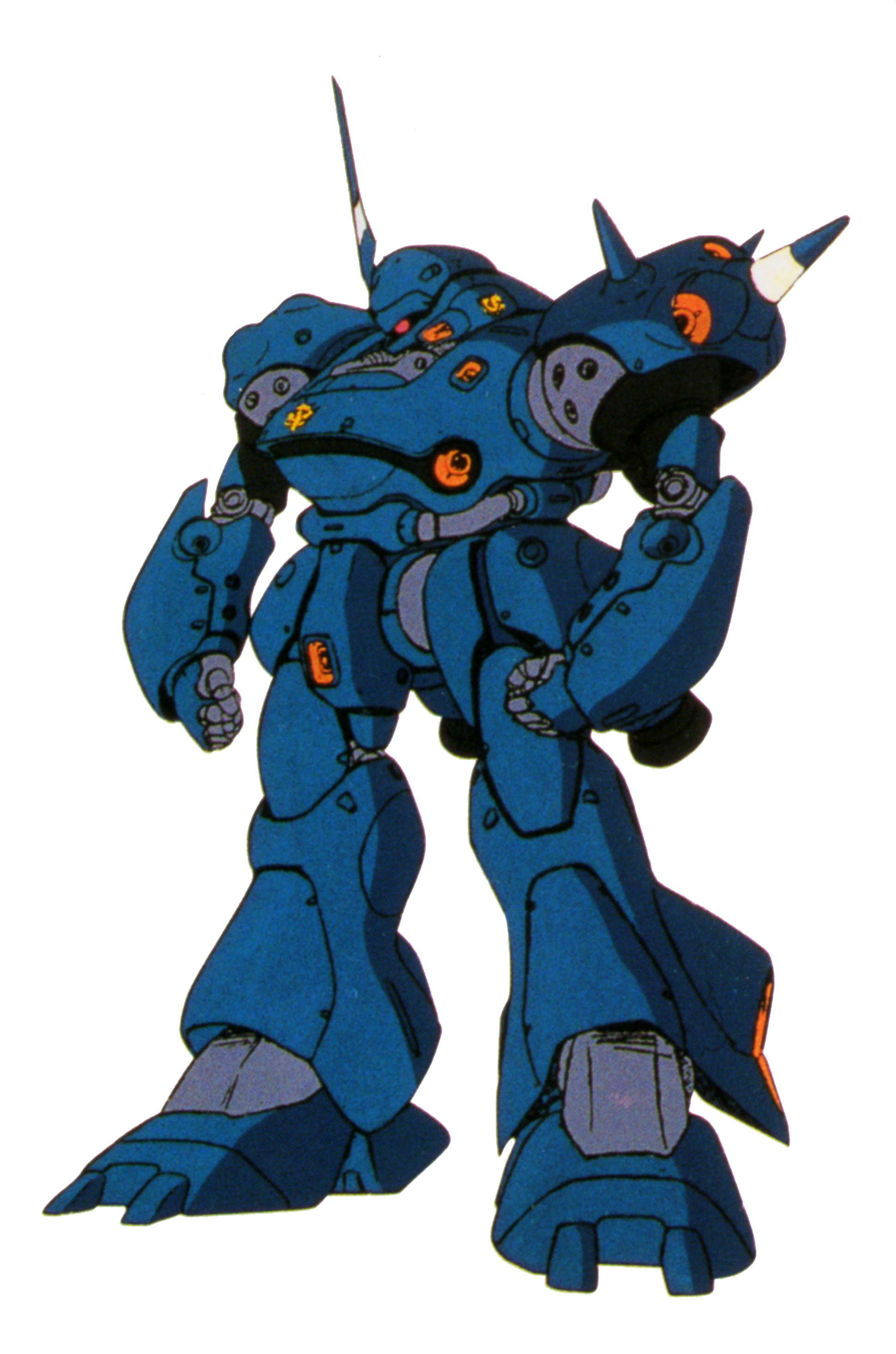 Pilots/Owners:
Spoiler:

1.
2.
3.
4.
5.
6.
7.
8.
9.
10.
Power-plant: Minovsky Ultracompact Fusion Reactor
Power Output: 1550 kW
Sensor Range: 6100 meters
Pilot Accommodations: Pilot only (in standard cockpit in torso)
Armor: Titanium Alloy/Ceramic Composite
Information:
The "E" in the MS-18E Kämpfer's model number was an abbreviation for the German word "einhauen," which translates to "one strike." "One strike" summed up the Kämpfers role in combat as a fast assault unit. It was meant to strike quickly, cause massive damage with its varied weapons loadout, and make a fast escape. The Kämpfer was a very focused design, never intended to work outside of its created role. Within this role it was an exceptional unit, rivaling the Federation RX series in firepower and speed. The unit was covered with thrusters and verniers to give it high maneuverability. Conversely, the large number of thrusters resulted in a high fuel consumption rate, limiting it to only being operable for short periods of time. Its designers chose only minimal armor plating, even removing the hip mounted skirt armor found on most mobile suits entirely from the design. The choice of conventional explosives and weapon systems in favor of beam weapons was made to reduce the drain on its powerplant and resultant drop in speed. Weapon racks were designed to be ejected from the unit as they were expended, minimizing dead weight. The unit was intended to be operated by special forces, built to be easily disassembled and reassembled in blocks. This was to aid in its insertion and activation behind enemy lines.
Weapons:
2 x 60mm Vulcan Gun
2 x Beam Saber
Special Features:
Weapons Racks (ejectable when expended)
Optional Weapons: (Will cost Zeni)
2 x ZUX-197 Jagdgewehr Shotgun
2 x 360mm Giant Bazooka II
2 x Sturm Faust
Prototype Large Beam Rifle
Chain Mine
RGC-83 GM Cannon II (Mass Production)
Power-plant: Minovsky Ultracompact Fusion Reactor
Power Output: 1420 kW
Sensor Range: 6300 meters
Armor: Titanium/ceramic composite
Information:
The RGC-83 GM Cannon II is more heavily-armed than its predecessor. It is equipped with two shoulder-mounted beam cannons, unlike the RX-77-2 Guncannon (which is equipped with cannons that fire solid shells), and can carry a 90mm machine gun as well as a beam saber for close combat. It also includes two 60mm vulcan guns mounted in the head, but these are usually last-resort weapons. To power the GM Cannon II's beam cannons the suit is equipped with a reactor that has a much higher output. It is also very heavily armored, featuring Chobham armor based on the same design as the RX-78NT-1 Gundam "Alex", although the armor was built directly into its body rather than being mounted on a smaller frame. However, it pays the price for this durability with very low speed and mobility. A GM Cannon II on its own has been shown to not be able to fend for itself due to opponents being able to outmaneuver it, unless its opponent also lacks speed.
Weapons:
2 x 60mm Vulcan Gun
Beam Saber
2 x Beam Cannon
Optional Weapons: (Will cost Zeni)
Shield
HFW-GR·MR82-90mm GM Rifle
Page 2 of 2 •
1, 2
Similar topics
---
Permissions in this forum:
You
cannot
reply to topics in this forum