Specialty Gundams
So at this point you are asking what
Specialty Gundams
are. Well good thing you are since these Gundams are known throughout the many series starting with the original dating back to 1979 with the original Mobile Suit Gundam. Most Gundams on this list will be the feature/Main character Gundams from the series starting the Mobile Suit Gundam from 1979 through current series as of 2018. Of course when 2019 and so on comes along the Gundams from those years will be added as well to this list. With this list you will see many Gundams that will be a one of a kind on this site. Once they are destroyed that will be it for them. Of course if they get destroyed some parts will be salvageable from their wrecks and you could eventually create your own Gundam or put them into another that you may own.
Now this list of Gundams is not to be confused with the other list that feature ones that can be purchased. You can find those here:
http://animeunitedoneworld.forumotion.com/t22-gundams-for-purchase#41
Now onto the main details on how this works.
F.A.Q.
Q:
How do we take on these quests?
A:
It is very simple. On each page that a Gundam is featured on it will give Quest details and whether or not the Gundam is available. If it is available follow the wc and go to the location of where it is location (please note: Some may be in space so you may have to do some space travel my friend). Once you locate the Gundam all you gotta do is Pilot it to your ship or HQ and keep it there until you are ready to use it.
Q:
How would these Gundams be any different from the rest?
A:
Well these Gundams function about the same but will have better stuff to them and you will not have to purchase extra equipment. What they had in their series will come with the Gundam fully stocked. But once you run out of that ammo you must buy more of course but at least you can go in with a fully functioning Gundam without paying an arm and a leg.
More questions to be answered at a later time.
Now that all of that stuff is out of the way let's see the list and what you gotta do to get them. Enjoy.
RX-78-2 Gundam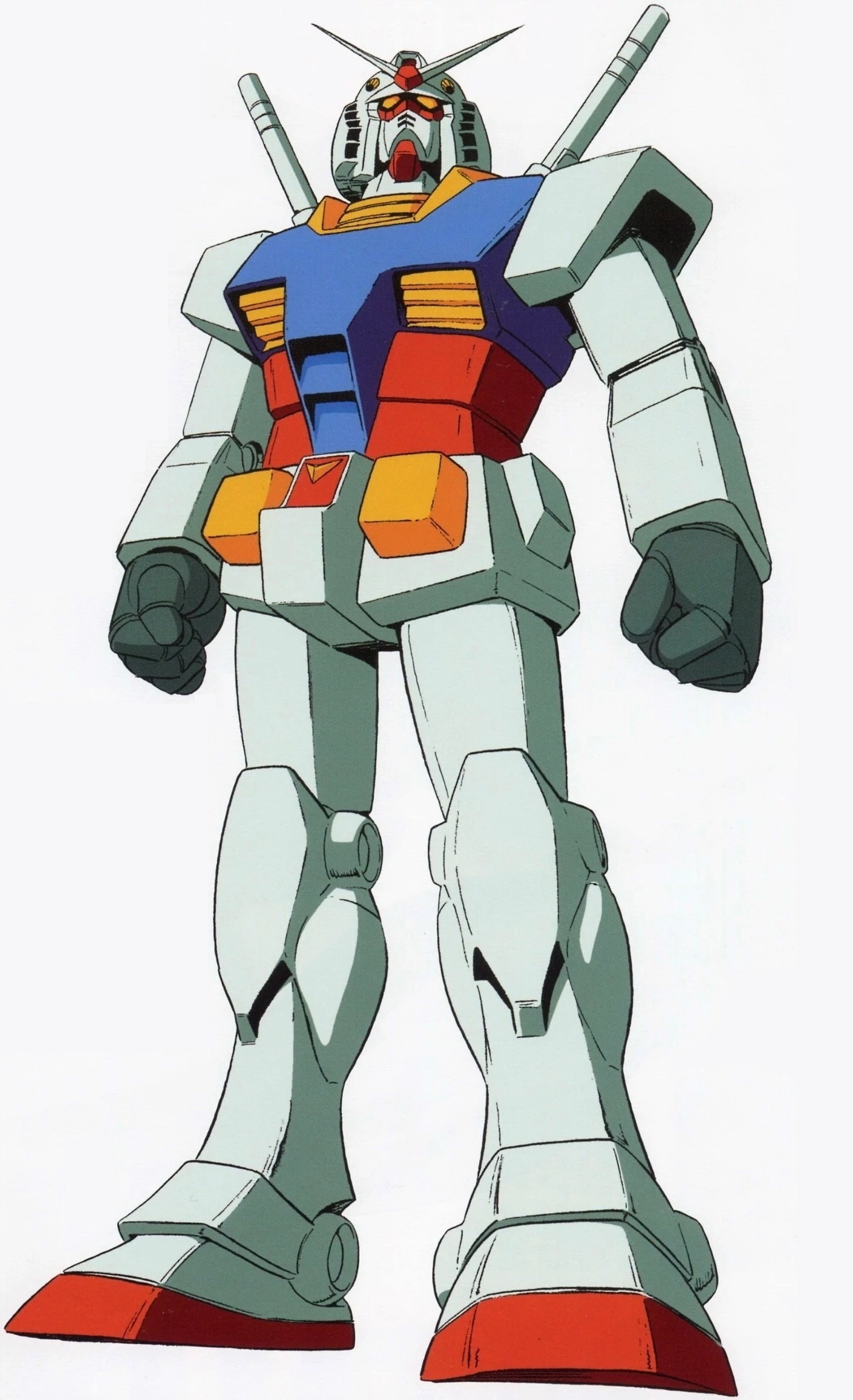 Owner/Pilot:
Power-plant: Minovsky Ultracompact Fusion Reactor
Power Output: 1380 kW
Sensor Range: 5700 meters
Pilot Accommodations: Pilot only (in cockpit in torso with Core Block System using FF-X7 Core Fighter)
Armor: Luna Titanium Alloy
Information:
The Gundam was incredibly advanced for its time. Built from lightweight Luna Titanium Alloy, its frame was both lighter than that of Zeon's mass-produced mobile suits and much sturdier, able to shrug off a Zaku II's machine gun fire with little to no damage. Its offensive power was above and beyond that of the Zeon Zakus. The Gundam would engage in most battles with its beam rifle making it the first mobile suit to have firepower equivalent to a battleship beam cannon. In addition, it made use of two beam sabers, blades of extremely hot plasma which could cut through any metal with ease. Those beam sabers could be extended into a spear-like beam javelin, which could be used to stab into an enemy from a longer distance than the blade of the saber would allow.
Weapons:
2 × 60mm Vulcan Gun
2 × Beam Saber
Special Features:
Core Block System
Hardpoints
Learning Computer
Magnetic Coating (field upgrade)
Heatproof Field
2 × Beam Javelin
2 × BLASH-XHB-L-03/N-STD 380mm Hyper Bazooka
BOWA-XBR-M-79-07G Beam Rifle
Gundam Hammer
RX-M-SH-008/S-01025 Shield
Super Napalm
Quest:
Spoiler:

TBA!!!
RX-79[G]Ez-8 Gundam Ez8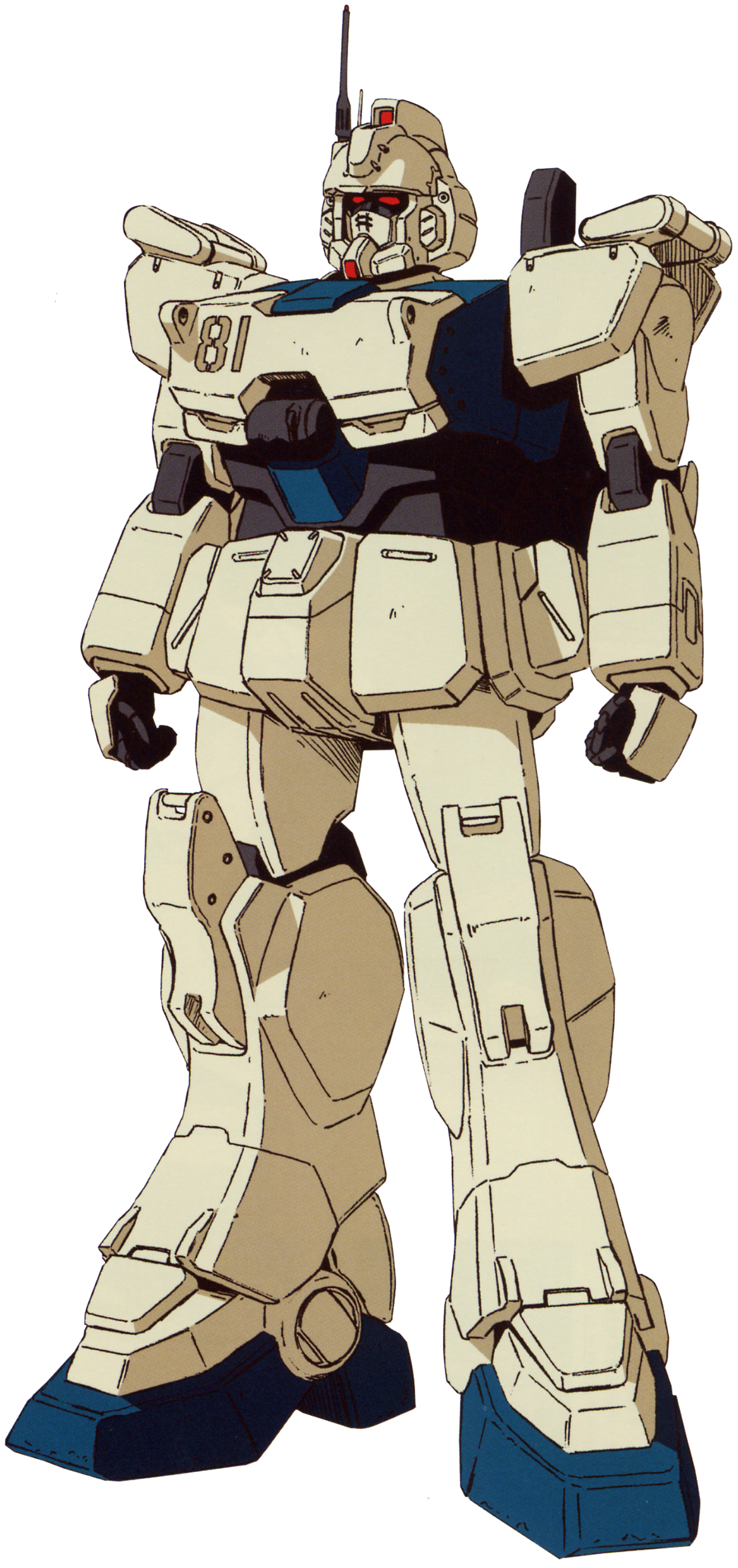 Pilot/Owner:
Power-plant: Minovsky Ultracompact Fusion Reactor
Power Output: 1380 kW
Sensor Range: 5900 meters
Pilot Accommodations: Pilot only (in standard cockpit in torso)
Armor: Luna Titanium alloy & Super-Hard Steel Alloy
Information:
The RX-79[G]Ez-8 Gundam Ez8 is a reconstruction of a heavily damaged RX-79[G] Gundam Ground Type using whatever parts the Earth Federation Forces engineers could find.
The resulting amalgam of spare parts was given the new model number RX-79[G]Ez-8, code named the Gundam Ez8 (Ez8 standing for "Extra zero-8"). The Gundam Ez8, despite being constructed largely of spare parts, was actually capable of a slightly higher performance than the existing RX-79[G] Gundam Ground Type. By removing the fixed weapons in the left side of the chest the Kojima Battalion engineers were able utilize the extra space to improve upon its power plant mechanism and boost reactor output, which gave the Gundam Ez8 a higher generator output, better propulsion, improved mobility, and superior overall performance. The Gundam Ez8's armor placement was also revised, giving it added protection around the cockpit block and chest, and around the ankles.
To compensate for the removal of the chest-based vulcan and multi-launcher cannons, the Gundam Ez8 had a 12.7mm anti-personnel machine gun placed in the mecha's abdominal region, as well as twin 35mm machine guns mounted in the head. The Ez8 still retained the two beam sabers stored in the compartments in the sides of the legs, and was still capable of using all of the armaments its predecessor could, although Shiro heavily favored the 100mm machine gun. The traditional Gundam "V-fin" communications array that was mounted on the forehead was also done away with, opting instead to replace it with a more durable and more function-efficient rabbit-ear communications antenna on the right side of its head. The Gundam Ez8's backpack design was left unchanged allowing it to still mount mission packs and other necessary field equipment options.
Weapons:
2 x 35mm Machine Gun
12.7mm Anti-Personal Machine Gun
2 x X.B.Sa-G-03 Beam Saber
Special Features:
Parachute Pack
Weapon Rack
RGM·S-Sh-WF/S-00116·Ap-A Shield
NF·GMG-Type.37/100mm Machine Gun
P.B.R-0079/A12 S-0000204 Beam Rifle
NFHI·GMCa-type.09/180mm Cannon
Quest:
Spoiler:

Description: The last time this Gundam was last seen was in Southeast Asia of Old Earth where it fought during the One Year War. It suffered massive damage losing its left arm and the cover to the cockpit as well. With other functions left intact the Gundam has been laying in wait for a new Pilot to come along and fix it up to be put back into service once again.

Objective: Search the entire Southeast Asia of Old Earth and find the remains of this Gundam. It is still capable of being piloted but not into space as it lacks the proper life support systems and the cockpit no longer encloses itself either. So basically get it to a base or something and repair it before taking off with it.

Location: Old Earth, Southeast Asia

Wc: 1,500 finding, 1,000 repairs
Last edited by Kirito Gekko on Thu Feb 01, 2018 3:43 am; edited 1 time in total
RX-78NT-1 Gundam "Alex"
Pilot/Owner:
Power-plant: Minovsky Ultracompact Fusion Reactor
Power Output: 1420 kW
Sensor Range: 5900 meters
Pilot Accommodations: Pilot only (in panoramic monitor/linear seat cockpit in torso)
Armor: Luna Titanium Alloy
Information:
As the Earth Federation had not researched the extent of Newtype powers (such research would not become available until the acquisition of the Flanagan Institute by the Federation), the RX-78NT-1 Gundam "ALEX" did not have any sort of psycommu control. Instead, the RX-78NT-1 was optimized at every level for the vastly superior reaction time of Newtypes. Test pilot Christina MacKenzie (an Oldtype) noted that the machine was incredibly powerful, almost to the point that it was out of control.
Weapons:
2 × 60mm Vulcan Gun
2 × 90mm Gatling Gun
2 × Blash·XB-B-09 Beam Saber
Special Features:
Chobham Armor
360-degree Panoramic Cockpit
Magnetic Coating
BOWA·Norfolk XBR-L Type-3 Beam Rifle
Hyper Bazooka
RX·C-Sh-05 UBC/S-0003 Shield
Quests:
Spoiler:

TBA!!!!
ASW-G-08 Gundam Barbatos Lupus
Pilot/Owner:
Power-plant: 2 x Ahab Reactor
Pilot Accommodations: 1 in torso cockpit
Armor: Nanolaminate Armor
Information:
As the ASW-G-08 Gundam Barbatos fought many battles with its pilot Mikazuki Augus, it became too damaged to be repaired. It was then sent to the MS Workshop in Saisei, the home base of Teiwaz, for an overhaul. The new name "Lupus" was given by the Saisei's Chief Mechanic, who was also responsible for the mobile suit's maintenance.
Based on Mikazuki's combat data, the mobile suit was reconfigured as a close combat unit, and its reaction speed and mobility were also increased, with adjustments made through the Alaya-Vijnana System to deepen the link between the machine's movement and the pilot's own senses. As a result, the Gundam Frame's response rate was adjusted to match with the speed that Mikazuki senses. Other changes to the suit's frame include the arms' frame being lengthened to match Mikazuki's senses, while the legs' frame were modified and has ground-use suspensions to help adapt seamlessly to combat in all environment. Lastly, frame parts in the arm and leg joints were replaced by those reproduced by Teiwaz, this helps to resolve the accumulated damages and also improved their movability. The boosters on the waist were based on those previously used by Barbatos 5th form Ground Type and 6th form.
Weapons:
Sword-Mace
200mm Gun
Twin Mace
Arm Rocket Launcher
New Long Sword
Large Railgun
Valkyrja Buster Sword
Special Features:
Sub Arm
Alaya-Vijnana System
Quest:
Spoiler:

Description: This Mobile suit has been a part of Tekkadan since it was designed for Mikazuki Augus, whom was the last pilot of it and died inside its cockpit. Since then the remains of the ASW-G-08 Gundam Barbatos Lupus has been sitting in the Tekkadan base ever since. It is served as a memorial to its late pilot and the many others who sacrificed their lives on the battlefield during Tekkadan's final battle.

Objective: Since you wish to own this Gundam, despite being heavily damaged and a man died inside it, you must infiltrate Tekkadan's now empty base and get passed its security measures placed in by the remaining members. Once you reach the damaged Gundam you must find a way to get it out of the building in its current state and onto your ship where it can then be restored to fighting shape. Of course it will come with full ammo and all weapons but as a twist this one is damaged and cannot be piloted until repairs are complete.

Location: Mars, Tekkadan Base

Wc: 2,000 retrieving, 2,000 repairing.
---
Permissions in this forum:
You
cannot
reply to topics in this forum