Anime United: Discord
If you have been enjoying the forum, come check out our discord.
You can chat with the other members casually in text or voice chats as well as keep up to date on anything going on.
So what are you waiting for, click
HERE
and come join our discord community!
Hokori, Regashi (レガシ ほこり, "A Legacy of Dust") 
Hyuga Clan (日向, "Sunny Place") 
"In the end, life is nothing but a race against time. Problem is time is already waiting for us at the finish line."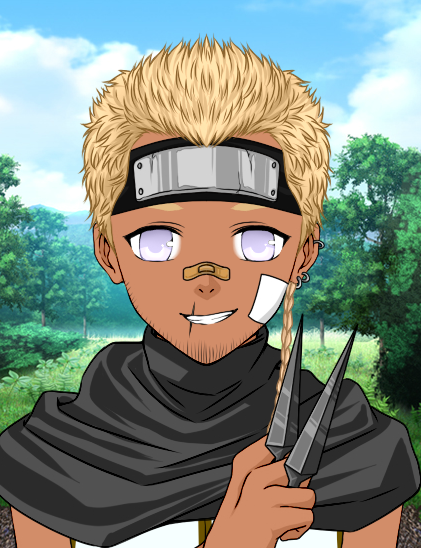 ---------------------------------------
Who is Regashi? | He is the bastard child of a Hyuga Clan Member born to a Shinobi of Kumogakure who, in herself was a foreigner, with a distinct passion for life and what it has to offer. Though it is his unique bloodline mixture brings great potential and just as many complications in every moment of his life. Still, what can you do about the the child of a Whore and a Slave?

RACE| Human (Land of Shinobi)
ALIASES| Toku, short for Tokuige "得意気, "Proud")
BIRTHDAY| January 29th
AGE| 14
GENDER| M
BLOOD TYPE| B-
HEIGHT| ~ 5'9" (175.26cm)
WEIGHT| ~ 153 lbs (69.4 kg)
CLASS| Eagle Eye
AFFILIATION| Land of Shinobi - Kumogakure 
RANK| Genin
CHAKRA NATURE| Lightning [Discovered] - Water [Undiscovered]
------------------------
Story So Far....



Race

: Human (Ninja)


Class

: Eagle Eye


Rank

: Genin


Power

: 5


Strength

: 5


Stamina

: 5


Speed

: 5


Energy

: 5


Perception

: 5


Energy Speed

: 5


Age

: 23



Chakra [Power Level/1k] - 5
Speed - 5
Strength - 5
Stamina - 5
Perception - 5
Chakra Control [Energy] - 5
Jutsu Speed [Energy Speed] - 5
-----------------
Tormenting Chakra [Overwhelming Aura] | Toku has an identified "Black" chakra that will appear dark and evil by visual representation but is actually warm and inviting, hinting to the destructive potential that he has. Although it has such a graceful sensation, his chakra is potent enough to actually cause some to feel like it is hard to breath in the softer cases, a sensation of suffocation in stronger cases.
Tournament Stats - Temporary Tracker (11/10/2018)
Chakra [Power Level/1k] - 20
Speed - 29
Strength - 41
Stamina - 29
Perception - 61
Chakra Control [Energy] - 5
Jutsu Speed [Energy Speed] - 10

Accessible Skills
Gentle Fist
Eight Gates | 1 - 3
Nintaijutsu | Storm Release - Thunderbolt Dance



Race

: Human (Ninja)


Class

: Eagle Eye


Rank

: Genin


Power

: 5


Strength

: 5


Stamina

: 5


Speed

: 5


Energy

: 5


Perception

: 5


Energy Speed

: 5


Age

: 23



Similar topics
---
Permissions in this forum:
You
cannot
reply to topics in this forum